My Blog
Posts for tag: toothache
By Beckman Dentistry
October 27, 2019
Pain is the body's warning system: It tells us something is wrong. And depending on the location and intensity of the pain, it can give us vital clues about the problem.
Sometimes, though, it's not so clear and direct—the pain could arise from any number of sources. Toothaches often fall into this category: Although it's likely indicating a tooth or gum problem, it could be something else — or even somewhere else.
This is known as referred pain, in which you may feel pain in one location, like your mouth, but the actual source of the problem is somewhere else, like an infected and congested sinus passage. If we're able to identify the true source and location of the pain, the better the chances of a successful treatment outcome.
Besides sinus infections, there are other conditions like trigeminal neuralgia that can refer pain to the mouth. This painful condition involves the trigeminal nerve, a large nerve running on either side of the face that can become inflamed. Depending on where the inflammation occurs, you might feel the pain at various points along the jaw, feeling much like a toothache.
There's also the case of an earache mimicking a toothache, and vice-versa. Because of the proximity of the ears to the jaws, there is some nerve interconnectedness between them. For example, an infected or abscessed back tooth could feel a lot like an earache.
These and other possible problems (including jaw joint disorders or teeth grinding) can generate pain as if it were coming from the mouth or a single tooth. To be sure you'll need to undergo a complete dental examination. If your dentist doesn't find anything wrong with your mouth, he or she may refer you to a medical doctor to explore other possible causes.
Getting to the root cause of pain can help determine which treatment strategy to pursue to relieve it. Finding the actual source is the most efficient way to understand what a pain sensation is trying to tell us.
If you would like more information on dental pain, please contact us or schedule an appointment for a consultation.
By Beckman Dentistry
February 17, 2017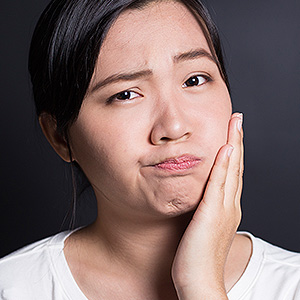 There are few more painful experiences than a toothache. You can't ignore it: it's as if your mouth is screaming for relief.
But while the throbbing pain can tell you something's wrong, it may not be clear exactly what's wrong. There's more than one possibility — it could be with the tooth itself, the gums around the tooth or a combination of both.
In the first case, a toothache could be a sign of severe tooth decay within the tooth's innermost layer, the pulp. The pain you feel comes from the nerves within the pulp under attack from the infection.
For this level of decay there's one primary way to save the tooth and stop the pain: a root canal treatment. In this procedure we remove all the infected and dead tissue from the pulp and fill the empty chamber and root canals with a special filling. We then seal and crown the tooth to prevent further infection.
Another source of toothache happens when your gums have become painfully inflamed due to infection. This is usually caused by periodontal (gum) disease, triggered by a thin film of bacteria and food particles on tooth surfaces known as plaque. In this case, we must remove all plaque and calculus (hardened plaque deposits) from tooth and gum surfaces, including on the roots. Your gums can then heal and return to health.
But your situation could be more complex. Untreated tooth decay can advance to the roots and subsequently infect the gums. Likewise advanced gum disease can pass the infection from the gums to the root and into the pulp.  For such cases you may need a specialist, either an endodontist specializing in root canal issues or a periodontist specializing in the gums.  They can better diagnose the origin and extent of the problem and offer advanced techniques and treatments to deal with it.
It's possible in these more complex situations your tooth has become diseased beyond repair and must be replaced. It's important, then, that you see us if you experience any significant tooth pain, even if it seems to go away. The sooner we diagnose and begin treating the cause of your pain, the better your chances of regaining your dental health.
If you would like more information on treating dental disease, please contact us or schedule an appointment for a consultation. You can also learn more about this topic by reading the Dear Doctor magazine article "Confusing Tooth Pain."