My Blog
Posts for: September, 2014
By Beckman Dentistry
September 24, 2014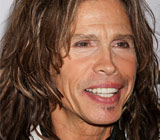 Rock star Steven Tyler fell and broke his two front teeth while on tour with his band Aerosmith not long ago. But Tyler was back on stage the very next day, thanks to modern dental implant technology.
Dental implants are the most optimal tooth replacement system in use today. The reason we say "system" is because replacing teeth with implants involves two, or sometimes three, components: the implant itself, which replaces the root-part of the tooth; the dental crown that sits on top of it to replace the part of the tooth that's visible in the mouth; and a connecting piece placed in between the implant and crown, known as an abutment.
The implant itself, made of titanium, is placed directly into the jawbone with a minor surgical procedure. Titanium has the unique ability to fuse to bone, creating a very strong connection. An implant provides virtually the same function as a natural tooth root, including stabilizing the bone underneath and preventing its loss — something that naturally occurs when a tooth is lost.
This fusion process takes a period of weeks, which is why the implant needs time to heal before a permanent crown is attached. One reason for early implant failure is "loading" them with biting forces too soon. But in experienced hands, implants are extremely successful. Documented research and clinical studies indicate success rates of over 95% — which is higher than any other tooth replacement option. Once integrated and functional, implants can last a lifetime. That's why, though they are a bit more expensive initially than other tooth-replacement options, they are more cost-effective in the long term.
Of course, another advantage of implants is that they look and feel completely natural. Just ask Steven Tyler!
If you would like more information about dental implants, please contact us or schedule an appointment for a consultation. You can also learn more by reading the Dear Doctor magazine article "Dental Implants." Dear Doctor also has more on "The Hidden Consequences of Losing Teeth."
By Beckman Dentistry
September 09, 2014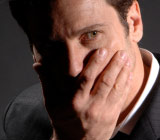 Most people agree that bad breath is more than embarrassing. It affects personal, social and business relationships. Although Americans spend roughly $3 billion annually on gum, mints and mouth rinses that promise relief, they are nothing more than temporary cover ups. Discovering the underlying cause of the problem is the only way to effectively eliminate the halitosis ("halitus" – breath; "osis" – disorder) long term. If you have bad breath, we can help.
While it's true that there are a few systemic (general body) medical conditions that can cause bad breath, including lung infections, liver disease, diabetes and cancer, the majority of causes originate in the mouth. We can conduct a simple oral examination to help diagnose the underlying cause of your bad breath. We will check your mouth thoroughly for signs of any dental problems that can produce an odor, including decayed or abscessed teeth, diseased gums, a coated tongue or infected tonsils. Typically, halitosis occurs when bacteria collect on the surface and back of the tongue where it is drier. Bacteria thrive in this environment, resulting in a "rotten egg" odor that so many of us are all too familiar with. This odor actually emanates from volatile sulfur compounds (VSFs), but will go away with proper treatment.
Once the exact cause is pinpointed, your halitosis can be treated in several ways. For example, we can show you how to brush and floss properly to more effectively remove bacteria responsible for tooth decay and gum disease — don't be embarrassed, nobody really knows until they're shown by a professional. We can also show you how to use a tongue scraper or brush to carefully clean the surface of your tongue. Treatment of tooth decay, the repair of defective or broken fillings, extraction of wisdom teeth (third molars) and periodontal (gum) therapy such as scaling and root planing (deep cleaning) will all help treat infection and consequently bad breath.
You don't have to be embarrassed by bad breath any longer! The sooner you call our office to schedule an examination, the sooner you will be able to breathe a lot more freely. For more information about the causes of bad breath, read the Dear Doctor magazine article "Bad Breath: More Than Just Embarrassing."